Monday - Thursday
7:45 am to 6:30 pm

Friday
7:45 am to 6:00 pm

Saturday
8:00 am to 1:00 pm
Email Mcleod Veterinary Hospital
Schedule Appointment with McLeod Veterinary Hospital
Like us on Facebook
Read reviews or write your own of
your experience at McLeod Vet Hospital.




New Mcleod Vet Online Store!
We now have a webstore where you can purchase pet food and supplies. Everything you might need to care for all your pets, from sweaters and booties to prescription diets, supplements, and litter boxes. You can even purchase products for your exotic pets. Registration must be approved prior to making purchases, as only clients may make purchases. Please review all return policies prior to finalizing your purchases.
All orders are delivered to our hospital for pick up or you can pay an additional fee for home delivery.
Click to check it out!

Notice: We ask clients to continue wearing masks while visiting our hospital.
Diagnostics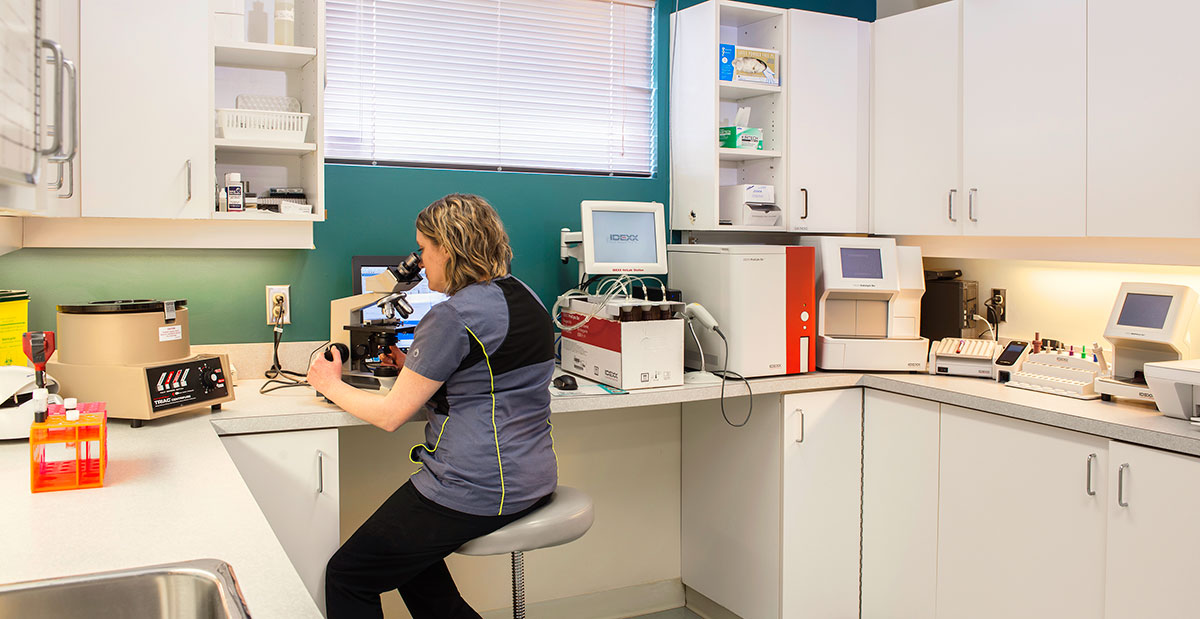 McLeod Veterinary Hospital is equipped to perform a variety of on-site lab procedures. This provides our patients with a timely response to urgent health problems. Some of the in-hospital diagnostic services available to our patients include general health blood profiles, heartworm testing, stool analysis, urinalysis, x-rays (including dental x-rays), electrocardiograms, early testing for kidney failure and tonometry testing (eye pressure diagnostic tool for glaucoma). At the McLeod Veterinary Hospital we endeavor to provide our clients with up to date, relevant diagnostic equipment to ensure your pet gets the best of care.
Digital X-ray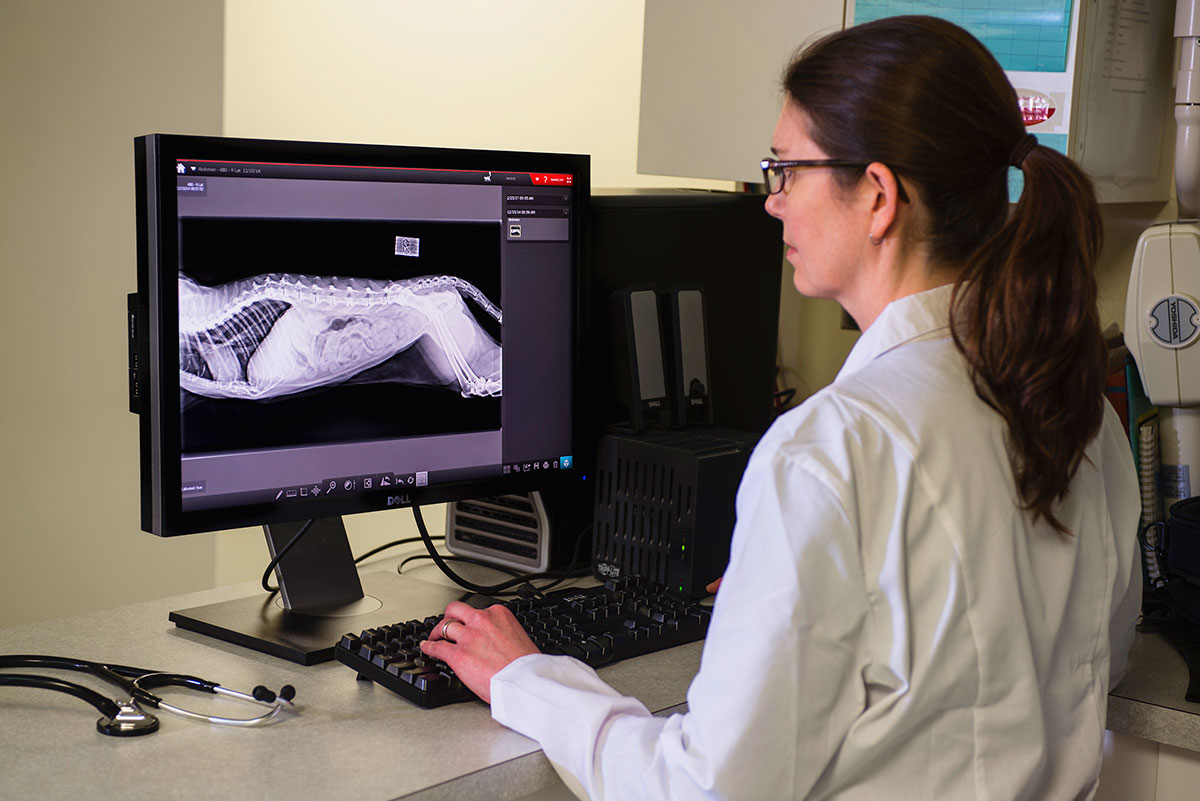 Digital imaging or x-ray is a very important diagnostic tool for your veterinarian to quickly evaluate bone and soft tissue structures. The digital x-rays provide a better quality picture with greater clarity, in a very short period of time. These images are saved in your pet's file and can be emailed to specialists if the need arises. Eliminating the use of film and chemicals, digital x-ray is a safer system for both your pet and the environment.
Ultrasound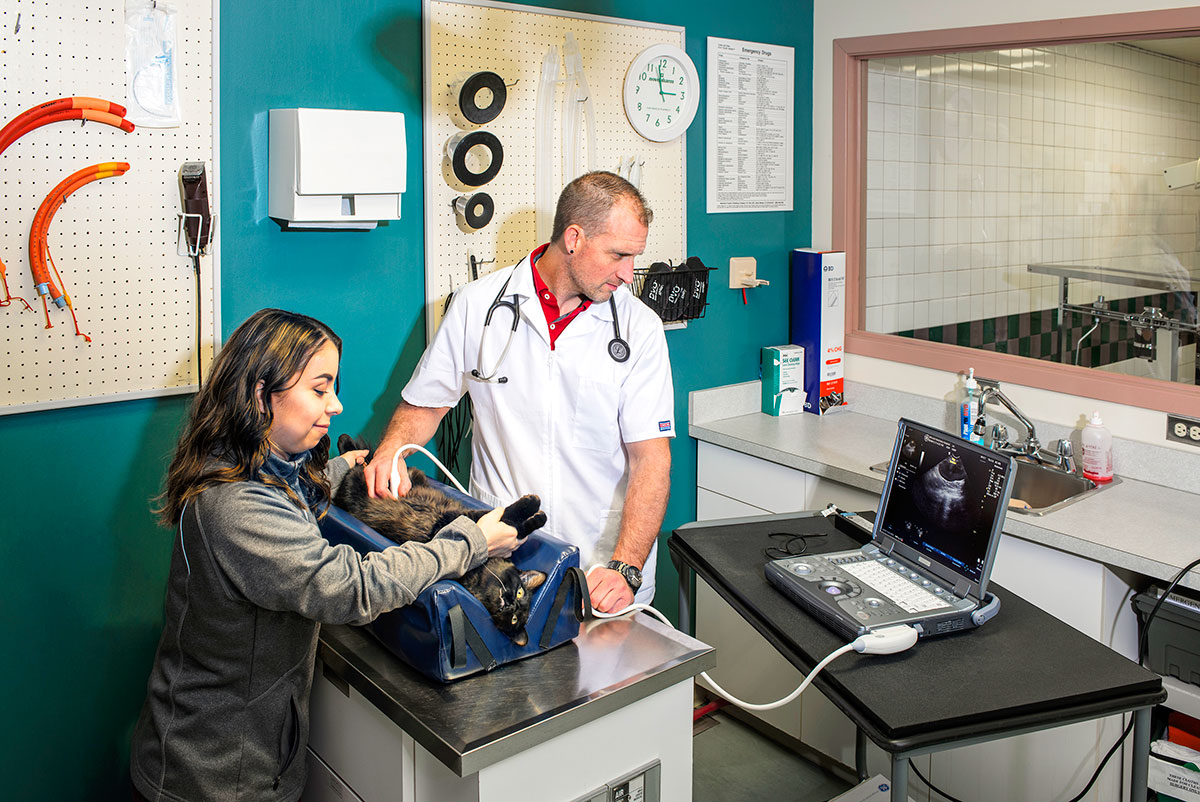 Ultrasound provides images of the body using high frequency sound waves. These sound waves are captured and displayed as a live image on a computer monitor. This painless, safe and minimally invasive procedure can help veterinarians examine may parts of the body, including abdomen, chest, heart, liver, bladder and also view fetuses during pregnancy. This tool, along with other diagnostic tools and a physical examination can help your veterinarian make a diagnosis.
Cardiopet
We offer Cardiopet for our heart patients. Cardiopet is an electronically transmitted ECG (electrocardiogram) to a cardiac centre in New York, where cardiologists will analyze and advise our veterinarians on treatments for our patients.
Results and treatment protocols can be received within an hour.
Cardiopet is also an excellent pre-screening test for our senior pets having to undergo an anesthetic procedure.